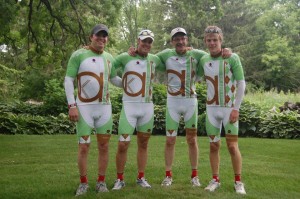 Treking is simply having fun on a Trek Bicycle. It doesn't make any difference if you are riding to work on a commuter bike, blasting through the trails on a mountain bike, cruising through the country on your road bike, or racing; it is all fun.
We bought our first Treks twenty years ago in 1992 at Wheel and Sprocket. I bought an aluminum 7000 mountain bike (which still looks good and is going strong) for myself, and a steel framed mountain bike for whenever Gloria might feel like coming along (she was six months pregnant at the time with youngest son Adam). Well, Jason was ten at the time and thought that bike was just about perfect for him (actually, the frame was a bit big for him). We started blasting the trails at the La Grange area of the Kettle Morraine. I remember almost falling at terminal velocity down some of those hills. The bike would be bouncing around under me so violently that the water bottles would fly out. I would stop at the bottom to wait for Jason; I was big and he was little and I assumed that he could not fall or pedal down those hills as fast. He would always be sitting there right behind with this serene smile on his face as if to say, "This is fun, dad, why did we stop?" The next year we had to buy Mom an aluminum 6000 of her own.
The immediate family now has seven late-model Trek road bikes: Aluminum 2.1, 2.3, and two WSD versions of those bikes; also a Madone 3.1,  a WSD of the 3.1, and a Madone from the 6 series. We're all loving it. How much fun is it? What can a good ride do for your state of mind? Take a look at Thoughts On a Trek Madone and Hot Ride On a Trek Madone.