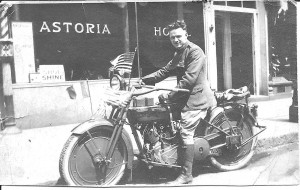 July 4th 1920 is all that is written on the back of this photograph. The writing reveals her characteristically angular lines and speaks to me through all these 94 years. She gave it to me in 1975 when I rode up on my first new motorcycle. I was then the same age as they were when she snapped the picture.
The name of the 22-year-old stud was Frederick Von Buettner; Fred for short, and Freddie to his friends. The photo was taken by his passenger and one and only bride of eight weeks, the former Lillian Grant Nelson. She had just turned 20 a few weeks before on May 30th.
I'm no expert on the history of The Motor Company, but this appears to be a new 1920 Harley-Davidson 20-J model. I think it was the first year that they switched the position of the horn and the headlight, with the light now on top. Apparently Freddie was a pioneer in what developed into the tradition of customization; I can't find any source of the solid rather than standard spoked wheels. (Or are those just light, non-structural wheel covers hiding the spokes?) The bike also sports the optional passenger seat of this J-L20T. The big surprise, however, hit me a couple of days ago when after almost 40 years of looking at the little, yellowed, Kodak Brownie snapshot, I had it printed as a poster. There it was on the repainted gas tank, almost in fighter pilot fashion or as in a Dan Brown novel: LGVB …. Lillian Grant Von Buettner.
Unlike today when most motorcycles are essentially recreational vehicles; or at best, offer supplemental, "fair weather"  transportation to cars and trucks, this young couple would not own a car until the first of their three children was born six years later. When Fred accepted a pressman's job in Chicago later that year, Bonnie did not immediately move with him. He regularly pounded the over 400 miles of Hwy 12 that connects Chicago and Minneapolis/St. Paul. Sometimes she took the train; however, she made the trip on the back of the bike more than a few times. She said that they would allow two days. Leaving Chicago in the morning, they would hit the Illinois-Wisconsin State line just south of Genoa City. Then it was on to Lake Geneva, Elkhorn, Whitewater, Fort Atkinson, and Madison where they had a favorite place to stop for lunch. Next waypoint was Sauk City,  and then Baraboo where they sometimes stopped for the night. However, they usually tried to get as far past the half-way point as they could, depending on the weather and how well the bike was running.  They would try for Mauston, New Lisbon, Tomah, and then Black River Falls if the stars and moon and motorcycle gods were all agreeable. This would put them about two-thirds of the way home and made an easy second day. Starting out fresh in the morning, Eau Claire, Menominee, and Hudson rolled a few inches under their feet. Just west of Hudson they would cross the St. Croix river at which point they were only 35 miles from home.
Their youngest daughter will turn 83 soon. I recently asked her what was with the Harley as their only vehicle, especially given Wisconsin weather and the fact that it wasn't all that less expensive than the basic two-seater Ford Model-T Roadster? She said, "Well, this was the start of the 1920's flapper era, and although most young women did not likely adopt the more extreme and bawdy behaviors that went along with the fashion, the fiery independence the movement encouraged definitely resonated with your grandmother. She was a flapper at least to the degree that her older and more conservative sister would later tease her mercilessly about it and make sure everyone else knew! Of course, you know her only as a very kind and sweet grandma; however, she was really quite independently minded. Also as you know, my dad was as independent and contrarian as a man can be. Even back then, when not everyone had a car, it was probably too fashionable and trendy for him. He might have been a range-riding cowboy if born a few years earlier. I think flappers probably just naturally take to cowboys on Harleys."
Special gift of the Internet: This is the sound of what Bonnie and Fred would have been listening to that day 94 years ago.