How fast will it take to see results? This is one of the most common questions people have when they're thinking about starting an exercise program or joining a gym. The answer is, "it depends."
Most people will start to feel better before they see obvious evidence in the mirror. Often, they will report having more energy after only a week or two. Depending on their goals and what they are looking for, most people will be seeing results after only three or four weeks.
Back when we had the gym, we wondered that ourselves. We had seen dramatic progress made by our members, but we had never tried to objectively measure it over time. The idea came to us at our grand opening which we held in March of 1998. This was about seven months after we first opened and by then things were running fairly smoothly. We had contracted with a local radio station for advertising. This promotional package included a live remote where they broadcast from our facility. A couple of the disk jockeys were really getting into our message and were asking if it was too late for a mid thirty-something (Keith) and an early forty-something (Reggie) to turn back the clock.
This light-hearted banter led to an agreement where we gave each of them complimentary memberships in exchange for them promoting their experience on the air. The idea was that they were going to compete with each other over who could lose the most body fat and gain the most muscle over a 10 to 12 week period. Their most excellent fitness adventure was written up in the July, 1998 issue of the East Troy Magazine, a supplement of the East Troy Times.
We charted their progress at regular intervals using a recently certified balance beam scale and a Lange Skinfold Caliper. My wife, who was a certified personal trainer, group fitness instructor, and weight management consultant, did the body fat testing. She would get good solid, reproducible results that correlated well with, for instance, the body fat testing performed by the physical therapy company contracted to test our high school wrestling team.
The two of them competed head to head for ten weeks and two days. (Reggie was tested one more time at twelve weeks and three days.) The plan was for them to come to the gym three days per week for a 90 minute sessions: 45 minutes of weight training followed by 45 minutes on the treadmill, elliptical trainer, or group aerobics class. They were supposed to do one more session (preferably jogging/running) on their own for a minimum of 45 to 60 minutes. Take a look at the chart: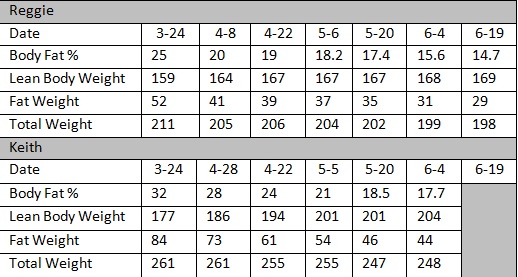 You can see that they both made great progress; however, clearly Keith won the contest. In just over 10 weeks Keith gained 27 pounds of muscle vs. Reggie's still respectable 9 pounds. Keith also lost 40 pounds of fat to Reggie's, still outstanding, but more modest and typical 21 pounds.
In a later post I will talk about the big difference in the comparative results; also, what changes they made (or at least said they made) to their diet.